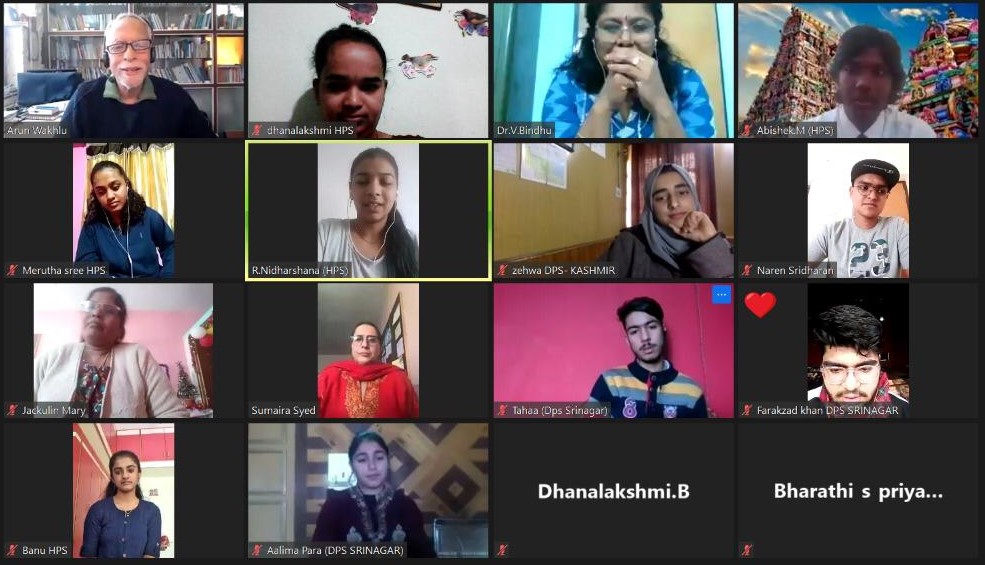 School organizes a virtual Cultural Exchange programme with Hosur Public School, Hosur Tamil Nadu
---
The need to confront intolerance, preconceptions, ignorance and fear of differences is much needed in today's society. With this aim a Virtual Cultural Exchange Program was organized to provide students the opportunity for a dialogue and facilitating further inclusivity through intercultural immersions, structured experiential learning, goals-based curriculum, and methods, involving high school students from DPS Srinagar and and Hosur Public School, Tamil Nadu on 24th and 26th December.
The programme kick started with the prayers and formal welcome by the students of both the schools followed by an inaugural addresses by Dr. Karunakaran Executive Director, Hosur Public School, and Mr. Vijay Dhar, Chairman Delhi Public School, Srinagar. The students of Hosur Public School then presented a PPT highlighting the Tamilian Culture including the food, dress, architect and languages of their state.
On 26th of December, the participating students were divided into sub-groups wherein they interacted with each other and exchanged ideas and thoughts. This session helped the children to bond further with each other and understand the cultural similarities and differences further.
The session concluded with the circling down of thoughts of each one of the participant. The energy in the session was amazing and it developed a sense of oneness among the participants. They learned that there are no borders, we have created them. The session emphasized the importance of tolerance and to be more acceptable towards other cultures, religions, lifestyle and their views and perspectives.