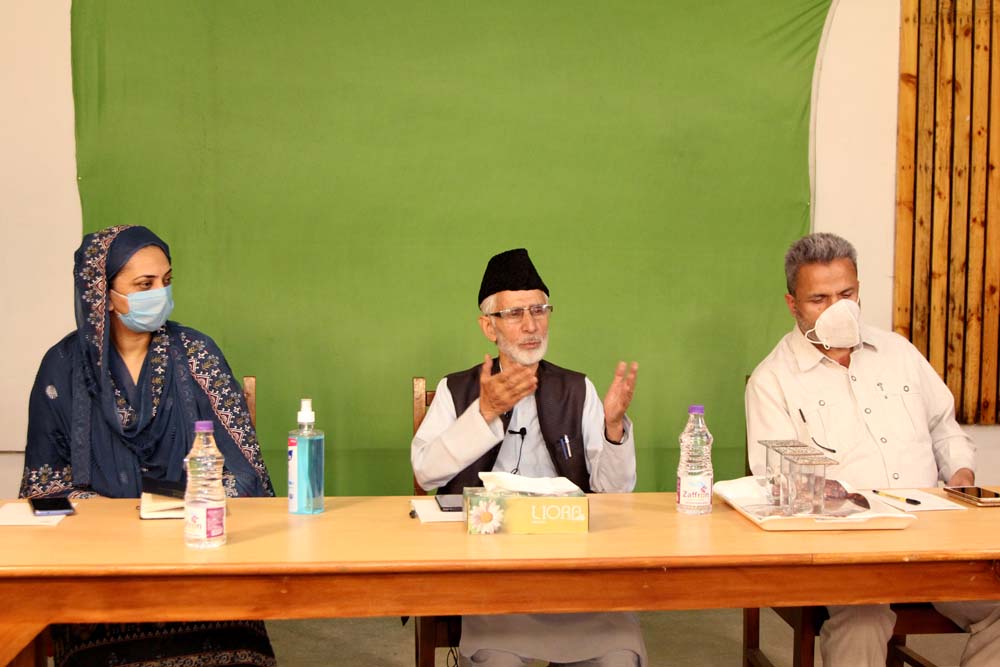 School hosts eminent poet Zareef Ahmad Zareef and renowned educationist Dr. Jauhar Quddusi
---
We were honoured to have the eminent poet and writer, Mr. Zareef Ahmad Zareef and renowned author, poet and educationist Mr. Jauhar Quddusi in our institution on Sep.15,2020. The guests were welcomed by Mr. Sajid, the Kashmiri language coordinator. The chairman, Mr. Vijay Dhar spoke a few words in honour of the guests. The main purpose of their visit was to revive the Kashmiri culture, language, literature and history of Kashmir and formulate an in house curriculum for different age level and induction of the same among the students. Mr. Zareef Ahmad Zareef, in his speech laid stress on imparting quality education to students and quoted the words of "Alexander the Great"— Children are given birth by parents but are moulded by teachers. A teacher is a ray of hope in a pupil's life and it's the efforts of the teachers due to which the child reaches his/her destination. He focused on teachers and teacher/student relationship. Many instances from our rich past were highlighted by the worthy guest.
A brief speech was followed by Mr. Quddusi in which he congratulated the School for enshrining the students with a great vision–revival of Kashmiri language, culture, literature, heritage, etc. He also laid stress on children being entangled to the roots of their existence and praised the esteemed Chairman.
The guests were felicitated by Mr. Dhar. A Question/Answer session was followed where teachers gave their valuable suggestions and ideas on how to implement the revival of Kashmiri language, culture, art and literature along with curriculum.