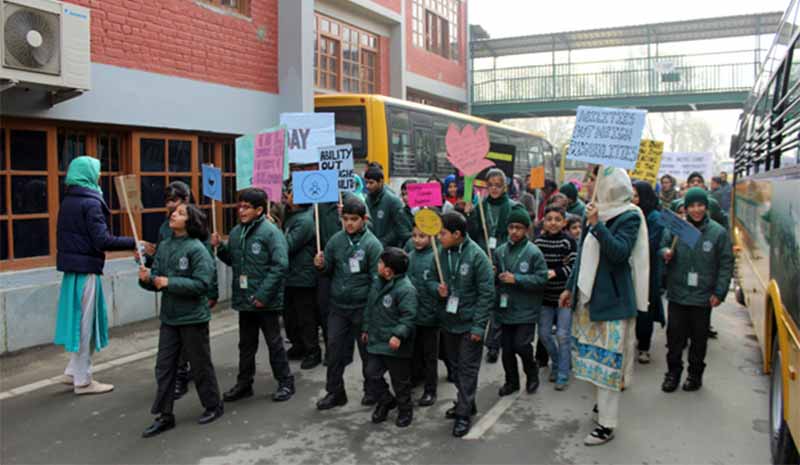 World Disability week celebrated
---
"There is no greater disability in society, than the inability to see a person as more" – Robert M.Hensel
Ignorance and negative attitudes are among the greatest obstacles that people with disabilities have to contend to. Over the past 10 to 15 years, there has been an increase in the level of awareness and recognition of disability in the community and also elsewhere. Awareness is the most important contributor to help reduce disability in the community. It is not about an individual becoming aware of his or her disability but something that has to permeate the entire community, so that it creates healthy attitudes towards people with disabilities.
For this the Department of Special Educational Needs, Delhi Public School, Srinagar celebrated the World Disability week on the 2nd Of December 2017 within the School premises to educate one and all about the people with disabilities- that they are people who are not disabled in any way but just differently abled. The Awareness drive organized by the SEN Department Started with an awareness rally on the 28th of November 2017 in which the teachers and students of the Department participated. The rally went from various departments of the School, with the teachers and the students chanting slogans, holding placards with different massages written on them. The rally ended with a Nukkad Natak "Pagal Nahin, Bemaar Hoon" by the Drama Savers Club of the School. On the 30th of November 2017, the SEN Department had a poster making competition in which the students of the Department participated. The students wrote, painted or drew on the eve of World Disability Day.
On the 2nd of December 2017, the function commemorating World Disability Day started with the Prayer and Welcome song sung by the children of SEN Department. The occasion was graced by Mr.Amir Suhail Wani , invited as the Chief guest who has his enormous contributions in the world of literature, Philosophy and other fields. The evening was made more colorful with cultural programs like skit, dancing and singing was presented by the students of SEN department.