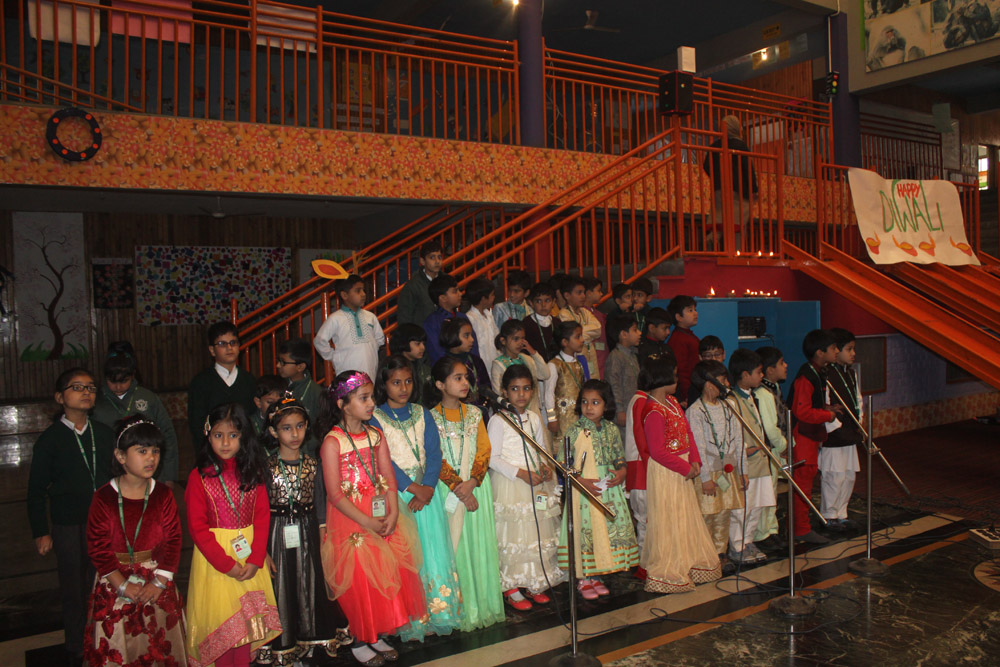 Tiny Tots organises special assembly
---
A special assembly was organized by the students of Class 1 to mark the culmination of International School Award (ISA) on November 4, 2017. The honourable principal, esteemed vice-principal graced the occasion by their presence. The theme of the assembly was celebrating the festival of Lights "Diwali". The students represented the rich art and craft and a variety of food items of India.
The assembly commenced with a prayer Lab Pae Aati….. in admiration of God. The students of class I H took us through the program with great verve and enthusiasm. The prayer was followed with the thought of the day. To lift the spirit of the audience, students of class IH presented a skit on Diwali or Deepavali. Through the skit the children depicted that "Diwali is called the Festival of Lights, and is celebrated to honor Rama-chandra, the seventh avatar (incarnation of the god Vishnu). It is believed that on this day Rama returned to his people after 14 years of exile during which he fought and won a battle against the demons and the demon king Ravana." A choir joined in wearing colourful Indian dresses and presented a melodious song celebrating the festival with joy and happiness.
Indian cuisine is known for its large assortment of dishes, and the students of class IF just added to the taste buds of everyone by presenting a sample of the food of India ranging from Chola Puri to yummy Rasgulla and the crispy Pakora.
The cuisine was followed by the beautiful Warli Painting of India. The students of class I D represented this tribal art mostly created by the Adivasis from the North Sahyadri range in India. The students informed the audience that Warli culture is centered around the concept of Mother Nature and the elements of nature are often focal points depicted in Warli painting.
The assembly could not have concluded without a mesmerizing kashmiri song performed by Sambhavi Pandita of Class II D. It was just a treat to the ears. The efforts of teachers and students were appreciated by the Vice Principal, Ms. Shafaq Afshan to make the event a success.