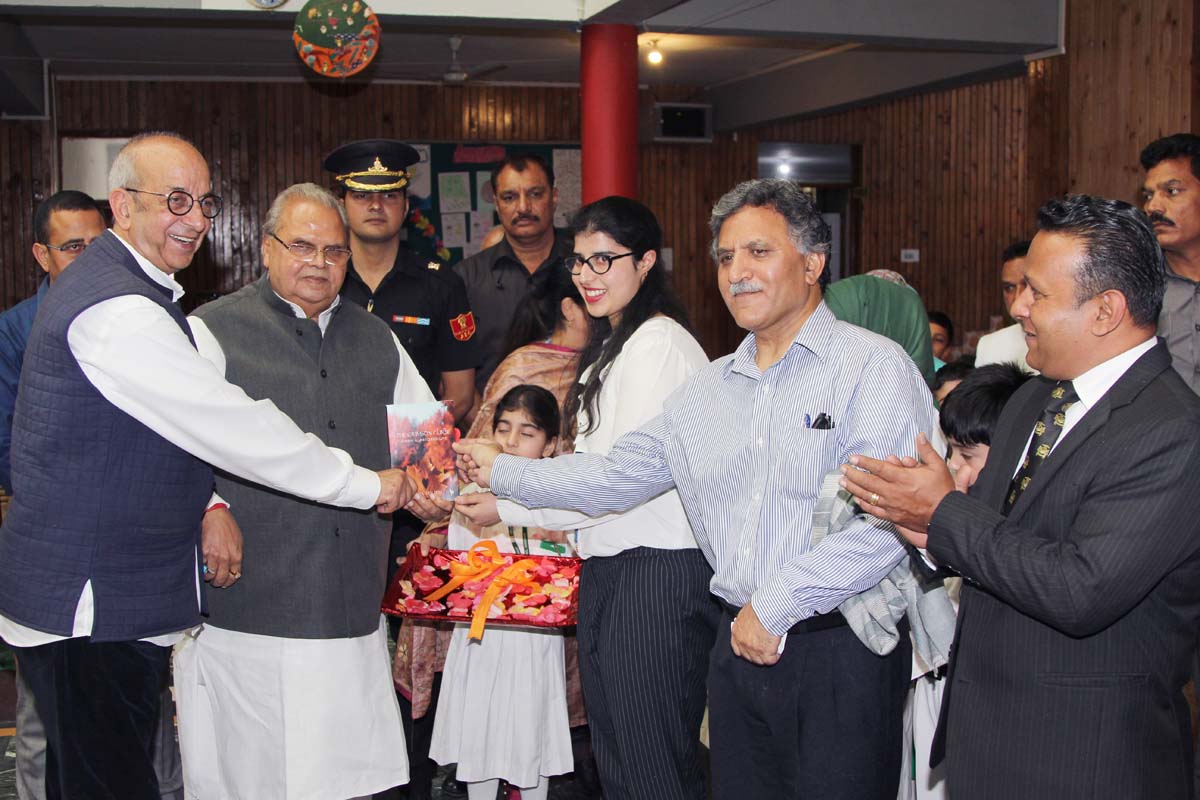 The power of dreams
---
I, Shuja Ashraf, (also known as Shuja Tasleem) work as a PA to our Principal, Mr. Alistair R A Freese. I am an MBA, and joined this prestigious school in December, 2018; prior that, I was working for an MNC as a Content Writer. I have also worked for other few international corporations as well. And it gives me immense pleasure to share with you all that I have been acknowledged as one of the most-read, contemporary author in valley; the feat of which was celebrated and recognized in a chat show with renowned journalist – Ms. Barkha Dutt.
Having said it all, I must confess that, working at DPS is something that I truly cherish. Let me tell you why. While growing up, I used to borrow all the Harry Potter books from my cousin sister, who was a student of this school. Back then, DPS was the only school in our valley where one could get every, even the latest, Harry Potter books. I remember when I first visited this school with my cousin, I felt as if I have landed at Hogwarts School of Witchcraft and Wizardry. Thus, DPS has always had a special place in my life.
Though I had a very successful career, but I had to come back to the valley and leave my job, because of some personal reasons. I came back and joined one organization or the other, but the lack of professionalism would make me quit these jobs. I then worked with few international organizations as "Work from Home" and found myself working for 18 hours a day. There is one thing that I want to share with you all, I am a firm believer of the fact that the pursuit of career and financial independence is very important. But not at the cost of losing your dreams and aspirations. After working as a professional content writer, I knew where doe my heart and its happiness lie. So, to keep myself happy and motivated, I started taking up freelance writing projects and made sure that I will remain active in every literary group – of which I was a part of. And it so happened that our Chairman, Mr. Vijay Dhar met me on one such events. He not only praised me for my public speaking skills, but also offered me a job at DPS. The interview was scheduled a week after the release of my debut book –The Crimson Curse –Autumn and Unrequited Love, which now is a part of our library as well. After clearing every round of interview and test, I was shortlisted for the job and today, I am a happy part of DPS family. To be honest, getting offer letter from DPS felt like receiving my letter to Hogwarts. (All thanks to Professor Dumbledore (Mr. Vijay Dhar).
If you are wondering, why am I sharing all this with you?
Well! It's a fact that our jobs define us. So, it's pivotal to make a reasonable choice while choosing one. Thus, we should do a job that resonates with our personality and passion, and if we can't find one, we must strive to find a job that gives us ample opportunities to give us our space to pursue things that define us. I believe that the time is our greatest asset and how we utilize it, determines the person we end-up becoming. After spending over 3 years in working for a 9 to 6 job and sometimes at a stretch of 18 hours a day, I started to almost forget my dreams. But today I can say that I have not only found a professional set-up to work in, but I also cherish a healthy Work-life-balance, as DPS gives me the power to utilize my greatest assets – time – to pursuit my passion- writing; of course post working hours. With over hundreds of physical copies of my debut book being sold all round the country, and its e-book version making home across many countries as well, I am all set to work on my second book.
So, after reading my story, there is definitely one thing that you must have realized, and that is the only reason why I have shared it with you all – and that is: "we must always stay true to our dreams and passion, no matter what".
We are often fooled to fit in the artificial standards of success. Something which is success for one person cannot be deemed as success for another person as well. So, we must find our personal benchmark of success, and push it higher, and make sure that we leave no stone unturned to achieve them. Because following the crowd towards success is easy, but summoning the courage to take a detour from that blind-march and chasing dreams is what really defines us and enables us to leave a legacy behind.
It's okay to take time to find your calling. It's okay to take time to realize it. Just make sure you are at it, even if you fail, or you won't fit in the society's benchmark of success, but you know you will be true to your conscious, you will be true to your dreams.
By Shuja Ashraf