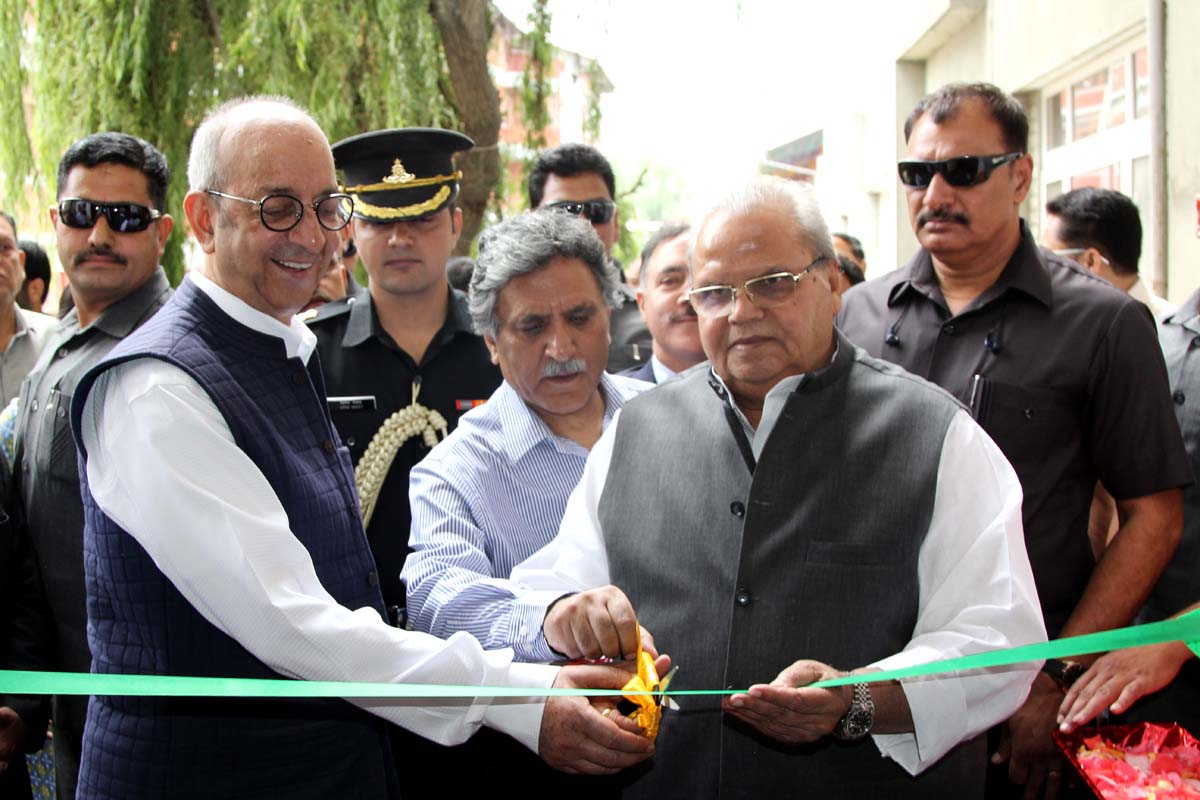 Governor inaugurates the State of the Art Learning Resource Centre
---
The Honble, Governor Satya Pal Malik inaugurated the newly constructed 'Learning Resource Centre' of Delhi Public School, Srinagar today on 3rd June 2019. He was accompanied by Mr. Khurshid Ahmad Ganai, Advisor to Governor and Mr. Parvez Ahmad, CEO of Jammu and Kashmir Bank The center, first of its kind in the state, has been established to impart skill training to the students with special needs and visually impaired to aid and facilitate their rehabilitation. The dignitaries were received by the Pro Vice Chairman Mr. Vijay Dhar, Mrs. Kiran Dhar (Chairperson), Principal Alistair R.A Freese, Vice Principal Mrs. Shafaq Afshan and other dignitaries.
The Governor and dignitaries interacted with the students and teachers to gauge the working of the Learning Resource Centre. They were appraised about the various rehabilitative measures practiced on students which include vocational therapy, Speech therapy, occupational therapy and physiotherapy. They lauded the dedication and toil of the teachers in creating a successful resource for children with special needs.
The guests also visited the recently established Digital Floor in Tiny Tots School. A special assembly was conducted in honour of the guests in the atrium of the wing. The visiting dignitaries were particularly impressed by the wide range of programs presented which included the welcome speech followed by the Prayer, song and a rollicking Dance performance. They praised the students and the teachers for putting into place such a dazzling event. The governor also released two books – "Luna Spark" written by Touyiba Binti Javaid, a class 7th student and "The Crimson Curse" written by Shuja Tasleem, PA to the Principal. The governor also addressed the assembly.
In his speech, Governor, praised the efforts of DP Dhar Memorial Trust for creating a school of such an enviable standard, saying "the school is a model which must be emulated to learn how to empower students. To design and make such a school a reality is a great service to the society". He also extended his congratulations to Talha Arshad for his stellar acting in the recently released movie Hamid, as well as Malaikah Gul Dev and Saira Zahoor who have brought laurels to the school and state in recently held national and international sporting events. The Principal and Chairman both thanked him for his visit and his appreciation of the school.