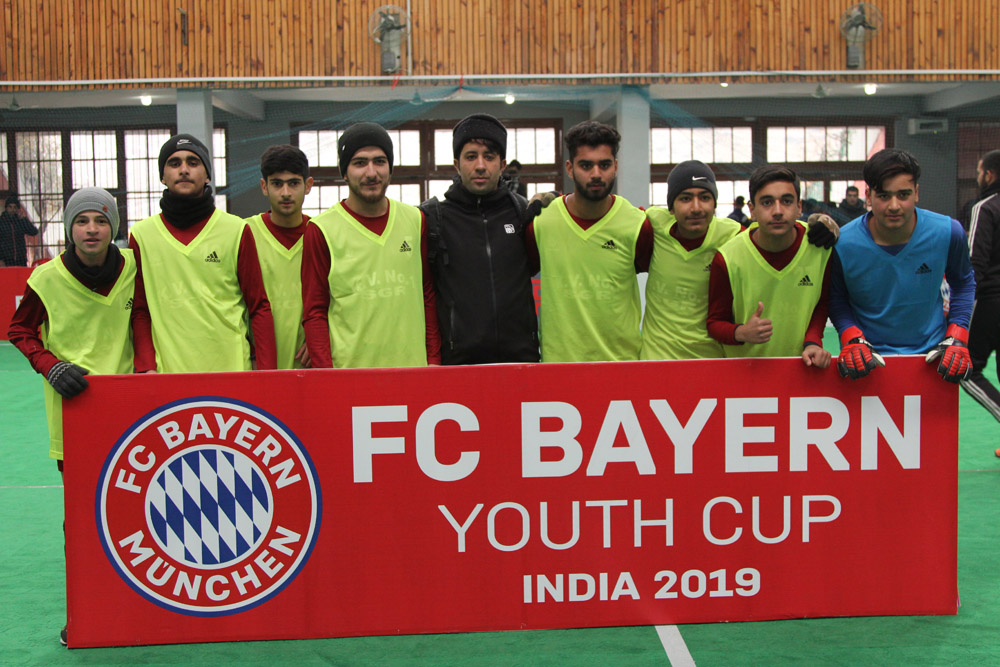 First day of FC Bayern Youth Cup sees six keen matches
---
The Srinagar leg of FC Bayern Cup – a global inter school football cup, being held in the state for the first time kick-started today. 16 teams drawn from prominent schools of the valley are competing with each other for the honours. On the first day of the cup, six exciting matches were played at Delhi Public School Srinagar. The opening day witnessed an eager crowd of supporters who braved the cold and damp to enjoy exciting football. The football didn't disappoint either, as the teams put their best foot forward to enthrall the spectators.
In the first match Green Valley defeated Kashmir Harward in an exciting match 3-2. In the second match KV No 1 thrashed Al Ghazali School 5-0. Burn Hall notched a victory against Legends School by scoring 2 goals against the one scored against them. The fourth match between Tyndale Biscoe and Sanctorum School Sopore ended in a stalemate with each team scoring a goal. The fifth match between AGM's City School vs Kashani School ended in favour of the latter by the margin 2-1. The sixth match was won by DPS Budgam vs host school, DPS Srinagar.
Earlier the cup had been thrown open by Mrs Shafaq Afshan – Vice Principal of the school. She expressed her happiness that "the school is yet again trying to provide selfless service to ensure betterment of local talent."
The Srinagar leg of the international cup is being organised by Delhi Public School in collaboration with Real Kashmir Football Club & Adidas. All the matches are being played in the Indoor stadium of the school. Delhi Public School Srinagar has added one more feather to its cap by becoming the first school in the state to host the game indoors.