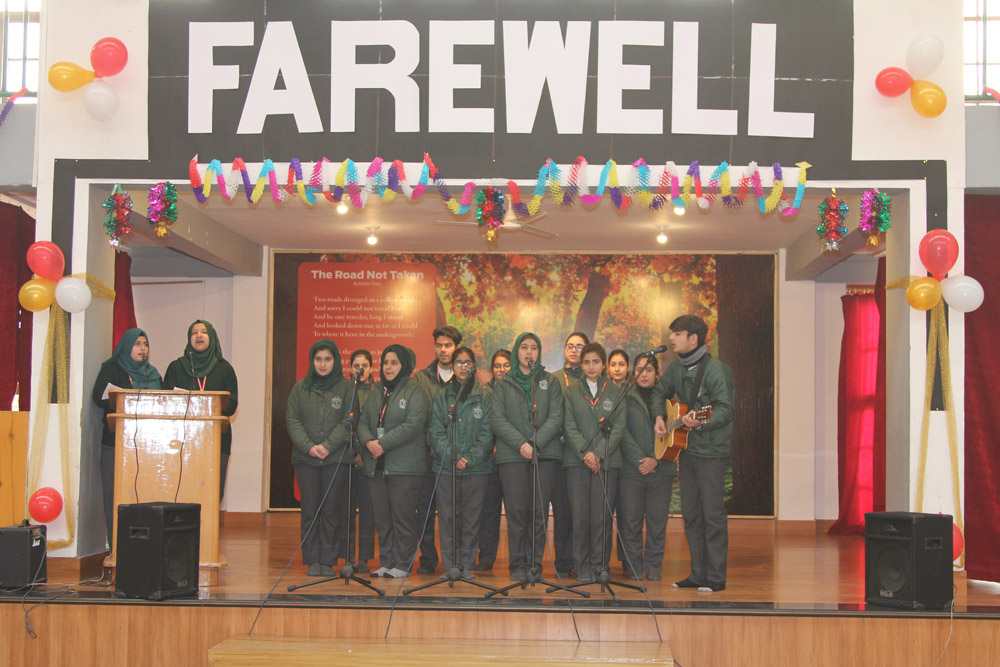 Farewell for the outgoing Class XII, Batch 2018 held
---
The DPS Family gathered to bid adieu to the outgoing class XII Batch 2018 on December 20, 2018. The day was a fiesta devoted to the years spent together with friends and teachers and to reminisce joyous moments.
The event began with the recitation of the school prayer. The vice Head Boy, Sadiq Ali, gave a welcome speech which was followed by the different performances that showcased the multiple talents of the students of class XI.
Damini from Class XI presented a welcome song and enthralled the audience with her melodious voice. The six house captains presented the banners to the House Masters and House Mistresses in the Banner Presentation Ceremony. The jesting comical skit by the Zahadat and group filled every heart with humour. A mesmerizing duet performance by Shifa and Adeeb aptly set the momentum for the other stage performances of the day. The students of the class XII were presented mementos and citations by the worthy Principal, Mr. Alistair R.A. Freese, Vice Principal Ms. Shafaq Afshan, Chairperson Ms. Kiran Dhar and Chairman Mr. Vijay Dhar.
Many interesting and tricky games like Passing the Parcel, Treasure Hunt were arranged for the class XII students. Mr. Vijay Dhar addressed the outgoing students with his words of wisdom and advice. Mr. Alistair R. A. Freese applauded the efforts put in by the Junior College staff and the students of class XI for organizing the farewell programme. He also wished the outgoing students good luck for their future endeavours.
The prime attraction of the event was Photo Series Presentation by Haider Javaid which gave the glimpse of the years spent by our guest students in the school. The National Award Winning Film Tanav, made by the DPS students and directed by Mr. Sajid, was also shown in the event. The vote of thanks was presented by the Vice Head Girl, Gurleen Wazir. On concluding the event, the students of class XI with their teachers sang the Farewell song 'auld lang syne.'
It was the day of mixed emotions for all present at the school auditorium to witness the official send-off for the class XII students. Ms. Azhar Khursheed and her team organized the event with great enthusiasm and endeavoured to leave a trail of nostalgia behind for the outgoing students.